THE BEST SOLUTION FOR A HANDS-FREE MOBILE BROWSING
Since many of us are working from home now, one of the best gifts to give is this mobile device holder. Sleek Portable Mobile Device Holder is portable, adjustable, and can easily hold a smartphone or small tablet.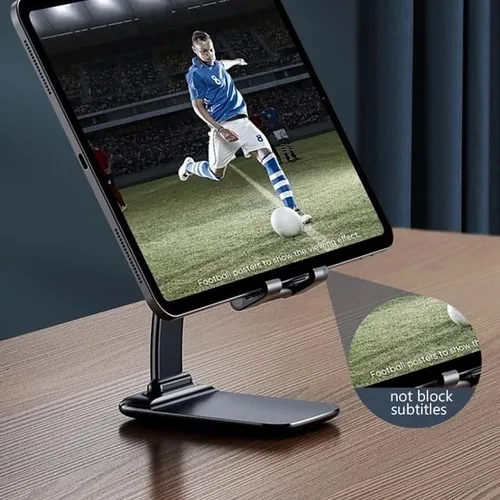 Ergonomic in design, this device holder will support your device whether it is portrait or landscape in position. The compact and light design makes it easy to put in your backpack or pocket. You can use it to watch movies on flights or talking to family and friends for hands-free use.
You can adjust the angle so that you avoid shoulder or neck fatigue. And you will have a clear line of vision to on-screen subtitles and device controls. With this device stand, you can take it anywhere because it is easy to fold and store in your travel bag. Get yours today for the home or office. Never leave your device flat on the table again.
 Features:
EXQUISITE WORKMANSHIP AND PORTABLE: The phone/tablet stand with a modern but simple design is easy to adjust makes your desktop well organized. Foldable design for easy carrying, takes up very little space. The smooth edge makes you enjoy the comfortable sense of touch even on the edge.

FOLDABLE:  Unlike the other cell phone stands that can not be folded, our phone stand can be folded completely to save space and portable to bring with your smartphones when you go out or for traveling.

ANTI-SKID AND ANTI-SCRATCH: Anti-scratch silicone pads protect your devices from any potential scratches or damages. Anti-skid pads enhance stability to prevent slipping or tipping over. Weighted base offers stable standing.
Specifications:
Package Includes:
1 x Sleek Portable Mobile Device Holder
Shipping Policy
Under each product, you will find the estimated time of arrival (ETA). This time frame is the length of time it takes for us to process your order and ship it. First, we verify your order and process and package your product with our manufacturers. This takes approximately 3 business days. Next, the product is shipped to the exact address you provided in the order. And depending on the carrier, it takes approximately one more week for the product to be delivered to you. Instead of rushing your shipment, we focus on quality checks to ensure you are receiving what you are expecting. We have published the estimated time of arrival for each product so that you are informed prior to your product selection and purchase. Most of our products are processed in 3 days and will be delivered from 7 to 15 days. You can track the delivery status of your order, by entering your order number into our Shipping Tracker in the top menu. Please see our SHIPPING POLICY for details.
Return and Refund Policy
To be ELIGIBLE for a return and refund of any product, you must submit a request through our Return and Refund Center within 15 days after your delivery date, or the date you received the item. All products that do not show evidence of heavy usage or damage and fit within the ELIGIBLE PRODUCTS category of our policy will be considered for return and refund. All products that fit within the INELIGIBLE PRODUCTS category of our policy will be REJECTED and not considered for a return or refund. Products purchased at a discounted price are FINAL SALES and are non-refundable. At this time, we do not accept product exchanges. Please see our RETURN and REFUND POLICY & PROCEDURES for details and steps. If you have any questions at all, feel free to contract us, and we'll be glad to answer any questions.
Thank you for shopping with us. We appreciate your business and shared referrals.